14/02/2019
Why your business should move to Online accounting
Cloud-based accounting software is said to be the future of accounting and as an increasing number of organisations make the move over to online accounting, we look in to the very real business benefits it offers and what your business needs to consider.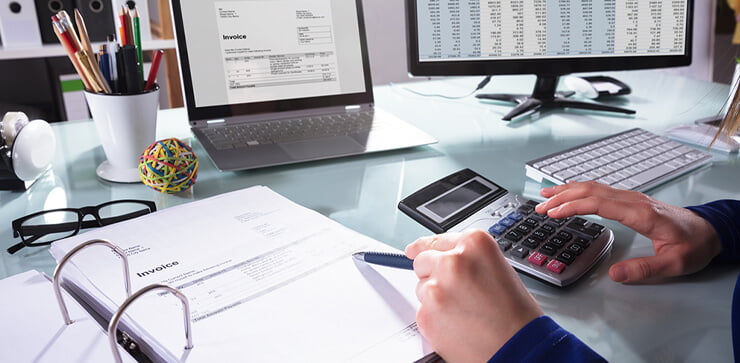 What is cloud accounting?
Cloud accounting means that both your accounting software and data are hosted on remote servers. Rather than being stored on the hard drive your information is stored in the cloud, allowing you access from anywhere, as well as providing all-important backup.
Many providers will also offer mobile apps to help you monitor key information on the go.
Accounting software typically allows a business to easily track their financial health and monitor business performance. You can use it to create invoices and to produce a variety of reports to help analyse your business position. Being able to access real-time information online and from any location therefore offers many benefits to business.
However, while 78% of business are predicted to make the move to online accounting by 2020, a recent survey from ClearData has uncovered that as many as 66% of UK business currently have no data management of paperwork and are leaving themselves at risk.
For business leaders still on the fence regarding moving to online accounting, here are some of the main advantages.
Advantages of online accounting
Easy access
With the help of an internet enabled device you can have access to your accounting data from different devices and different locations at any time. This can be particularly useful for a travelling workforce or being able to access information from home or while you are out of the office at any time. For larger companies, and particularly those with different branches or global presence, it is especially useful where all individuals can access the same data at the same time rather than relying on manual transfers.
Online accounting does of course rely on internet access and if you do lose internet connection your access will also be down. However, most places now offer internet access and even when connection is lost it is often restored quickly and easily.
Real time information
With cloud-based accounting the information you are working with is always up-to-date. Whereas desktop-based accountancy files need to be downloaded prior to being worked with, meaning that information quickly becomes out of date and discrepancies can be made.
Easy connection with your accountant
These days many accountants, such as HWB Chartered Accountants, will specialise in cloud accounting and can work directly with your data by simply logging in and having access to the correct information at any time. Due to multiple user access everyone can access the same data at the same time while in different locations and you can review your financial position together.
With real-time data your accountant can advise on opportunities and assist with VAT, tax planning, and forecasting. Without the need to wait on draft accounts opportunities can be seized and issues solved with speed.
Compliance with Making Tax Digital (MTD)
HM Revenue & Customs (HMRC) will require businesses trading over the VAT threshold to submit VAT returns using MTD-enabled software in future. Making Tax Digital requires that accounting records are kept digitally and therefore many companies who have not already done so are looking to transfer to online systems prior to the April 2019 deadline. Making Tax Digital therefore means online accounting is now a legal requirement for many businesses.
Time savings
One of the largest advantages of cloud-based accounting is the time savings it can offer your business. Updating and linking data is a quick process and activities such as using Optical Character Recognition (OCR) to upload and read receipts, or processing banking transactions, can all be accomplished with ease. Data entry tasks such as payroll management and transactions records can all be automated, saving hours of time and eliminating the possibility of human error.
Manageable monthly fees
The move towards Software as a Service (SaaS) has meant that prices have been driven down so heavy investment in accounting software is no longer a requirement. Helping you to manage your cash flow effectively via monthly subscriptions, and without a significant initial outlay, cloud accounting can actually save you money.
Software is kept up to date
You can have peace of mind knowing that the software you are subscribed to is kept up to date centrally and managed by the provider. In comparison with traditional accounting systems the need to keep software maintained and licences extended across each individual computer is no longer a drain on company finances.
Storing your data securely
Online accounting providers offer sophisticated levels of data security which are compliant with the Payment Card Industry Data Standard. While cyberattacks are on the rise you can have confidence that your data is more secure and backed up by the cloud when compared to the risks of the data sitting on a local server or machine.
A cloud accounting software provider will also ensure they provide backup servers in two or more different locations. If one goes down for any reason this means you will still have access to your data.
Fraud reduction
Many businesses have even evidenced that online accounting reduced fraud due to having greater control over data and access to it. Instances of fraud can be identified much quicker and dealt with accordingly.
Integration with existing systems
Online accounting software can be easily integrated with your existing systems which as ERP, CRM, payment processing, POS systems, e-commerce systems, or inventory management systems. With seamless integration your business will run smoothly, and informed decisions can be made in confidence. Be sure to ask a provider if the online software you are looking at integrates fully with each system you use.
In conclusion, if you are looking for a quicker, easier and cheaper method of handling your business finances, you have any questions on online accounting, or require assistance in choosing the best system for your business HWB will be happy to help.