07/03/2022
Lyndon and Charlotte clock up 10 years' service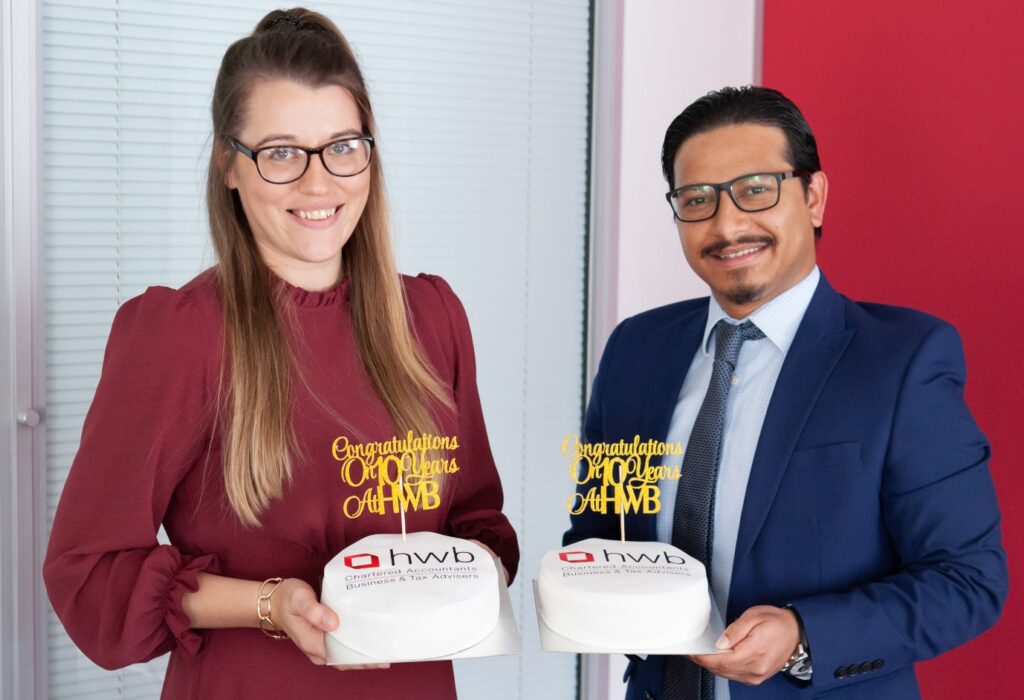 ICING ON THE CAKE: Service Charge Manager Charlotte Kretzer and Tax Senior Lyndon Howes are celebrating ten years' service at Hampshire based accountancy firm, HWB
Ten years' service clocked up by Lyndon Howes and Charlotte Kretzer has been celebrated by colleagues at Hampshire based accountancy firm, HWB.
Service Charge Manager, Charlotte Kretzer, joined HWB as an apprentice in 2011. While working at the firm she studied for and completed her AAT and ACA accountancy qualifications and was promoted as a result.
"HWB is a brilliant company to work for and they support you 100% throughout your studying. I would highly recommend coming in as an apprentice as HWB allow you to study and gain valuable work experience at the same time.
"I've really enjoyed my first 10 years working for HWB. I love the people and the variety of work – and there's always room for you to further develop within the company," she said.
When Lyndon Howes joined HWB, his time was divided between working in the tax department and in payroll. Ten years on, he is now a Tax Senior and enjoying his diverse client base.
"There are so many opportunities to enhance your knowledge at HWB especially where our clients are linked through more than one service line.
"I have wonderful colleagues and have benefited from the advice and support given by long time members of staff who are happy to share their expertise and nurture others," he said.
Managing Director Geoff Rhodes congratulated Lyndon and Charlotte on their career milestone.
"Both Lyndon and Charlotte are valued members of the team and it has been gratifying to see them both develop during their time at HWB.
"As one of the leading firms of Chartered Accountants and business and tax advisers in the region, we take our commitment to training and development seriously and it is great to see how Lyndon and Charlotte have flourished during their time with us," he said.
Chartered accountants HWB, headquartered at Chandler's Ford, near Southampton, provides business and tax advice.